Ingredients
2 packets Fleischmann's active dry yeast
½ cup water, heated to 110℉
2 teaspoons sugar
½ cup honey
2 tablespoons vegetable oil
3 large eggs + 1 egg yolk (with the white reserved)
2 teaspoons salt
4 ½ cups flour
Directions
Prepare the yeast: Heat ½ cup of water to 110℉ (Our kettle can't be set that low, so I microwaved for 30 seconds and measured with a food thermometer. The water was too hot, so I added room-temperature water until it came down to the right temperature.) Add 2 teaspoons sugar to the water and both packets of yeast. Stir with a chopstick or similar and leave for about 10 minutes for the yeast to activate.
Prepare the wet ingredients: Beat 3 eggs and the egg yolk. Add honey, salt, and oil. Beat well.
Dough: Put the flour into a large bowl. Make a well in the center and add yeast and wet ingredients. Mix with a wooden spoon until everything is absorbed.
Knead: Knead the dough by hand, adding flour if it is too sticky. I kneaded for about 10 minutes, adding flour several times.
Rise: Place the dough in a clean bowl that has been lightly oiled and cover with a clean kitchen towel. The dough should rise in a warm, humid place. An oven heated to 150℉ and turned off is a good start. You can also put a pot of water on to boil, then place the pot underneath the bowl inside the oven to create some humidity. Our oven doesn't go quite that low, so I put it on for 170℉ (its lowest temperature) and turned it off after I had prepared the boiling water. I let it rise like this for 60 minutes.
Punch down, rise again: After the dough has risen for an hour, take it out, punch the air out, and optionally let it rise again, with the same procedure, for 30 minutes.
Braid: Take the dough out onto a well-floured surface, divide in half, then divide each half into six roughly equal ropes. To braid six strands, repeatedly go over 2, under 1, over 2.
Egg wash: Mix reserved egg white with some sugar and salt. Brush across the top of the loaf. Sprinkle sesame or poppy seeds on according to preference.
Final rise: Let braided loafs rise uncovered for 35-45 min.
Bake: Preheat oven to 375℉ and bake for 25-30 min or until golden-brown.
That's it!
Notes
I took today off and decided to try baking challah again. I've baked challah a couple of times before, but the last time came out pretty badly, so I'm trying something new.
I looked at a number of different recipes (including one Grace found for me from a colleague) and decided I would try to come up with my own experiment to try. The recipe above is the ingredients and steps that I tried today, based on a combination of the ones I found.
The first rise after 60 minutes is the most successful I've been at having dough rise properly.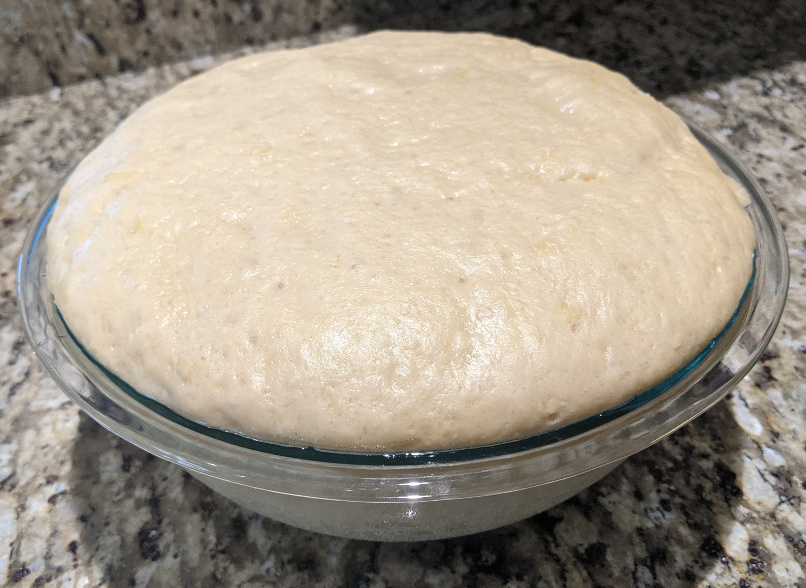 It got a lot smaller as we worked it to braid.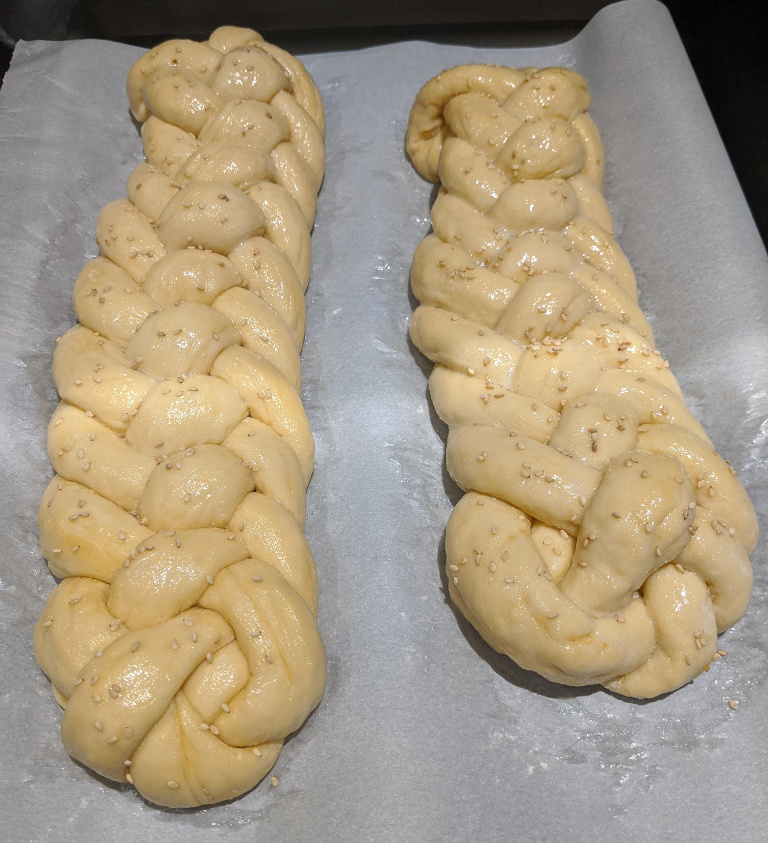 But then it rose again.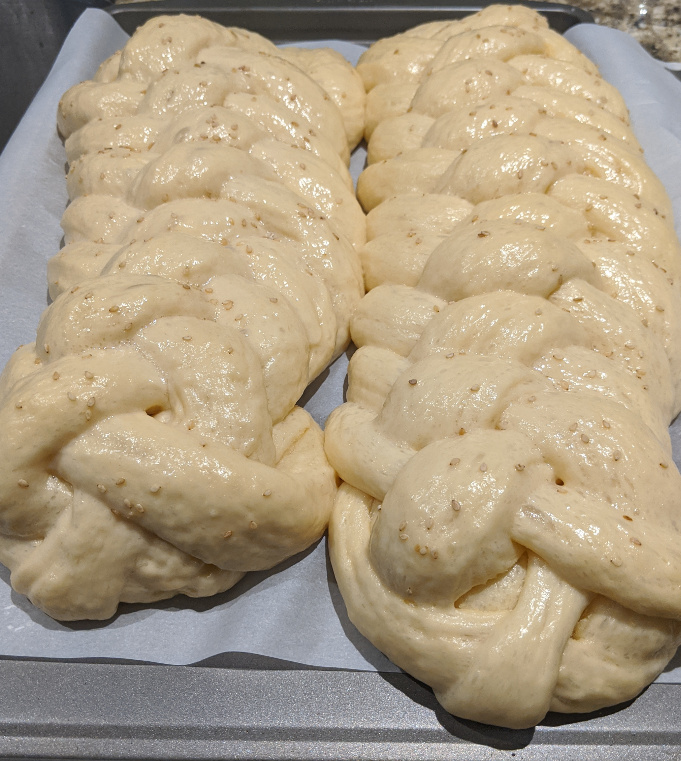 All done!